How can I maximise my marketing investment across media and reach Light TV viewers?
Ipsos iris data provides you with the tools you need to target hard to reach audiences so that you can build awareness, engagement, and improve both efficiency and effectiveness of your cross-media marketing campaigns.
The elusive 'light live TV viewer' has always been an ongoing and difficult-to-pin-down target for marketers. Using the profiling data available through Ipsos iris, we can isolate light TV viewers – those who watch less than 2 hours of live TV a day – and directly identify where these people spend their time online.
We can also use the data to identify the best ways to target this cohort in terms of content and websites. This provides invaluable insight for marketers to complement TV buying and planning and can be used to directly inform advertising and data targeting strategies to improve campaign efficiency.
Looking at the most visited sites in February, we can see that the top three brands for reaching light live TV viewers in terms of audience affinity index are Spotify, Reddit, and the Guardian. However, in terms of time spent, the top brands are Facebook, TikTok, and YouTube, highlighting greater active engagement on these platforms, suggesting that light live viewers tend to be younger.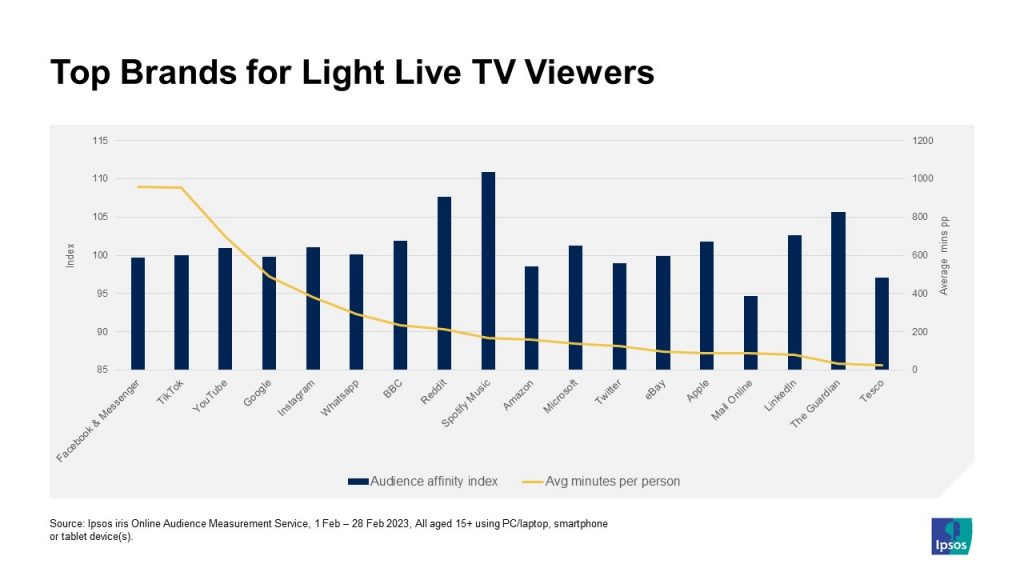 Spotify is a key brand for targeting light live TV Viewers, and by taking a closer look at their behaviour and usage of the platform on a daily and daypart level it becomes easy to understand more about their usage to improve targeting. This data can also be overlayed across an organisation's current TV marketing plans.
Peak audiences by day for February 2023 are in the morning and late afternoon. This data is useful to manage the frequency of campaign messaging, as well as to pinpoint the key engagement times of a target audience.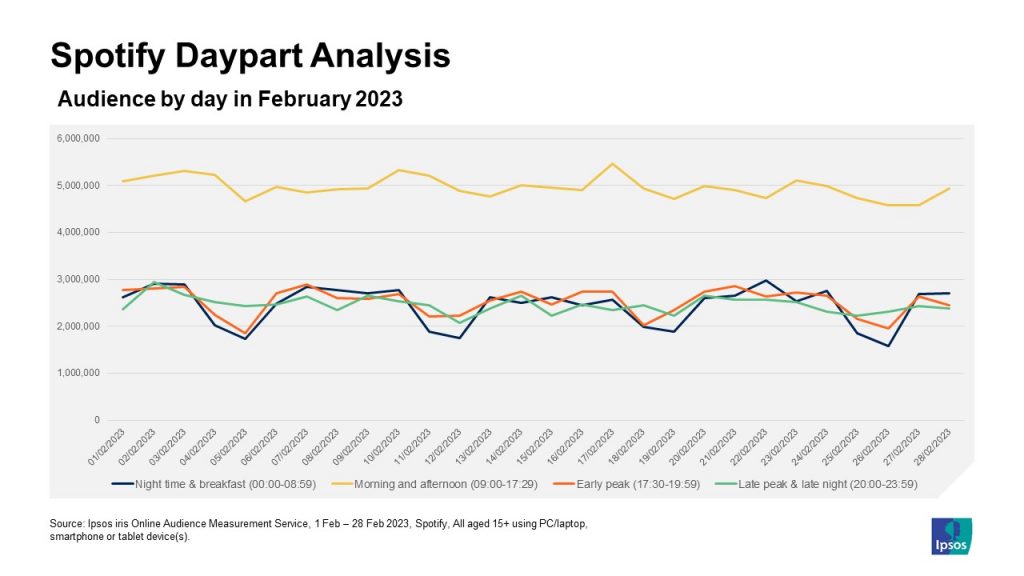 Ipsos iris data can also be used to complement TV planning and buying data to ensure you maximise reach and reduce wastage, resulting in more efficient campaigns. It is an important source of planning insight for hard-to-reach audiences.
For more information about how Ipsos iris can answer your key business questions, fill out the form here or contact the team.