How can Ipsos Iris data give you insights to improve business decision making?
One of the key benefits of the Ipsos iris dataset is the level of granular insight it provides across websites and target audiences. A digital publisher can profile their audience on multiple levels to get a 360⁰ view of the entire brand, across multiple domains and demographics.
Data can be run monthly, weekly, daily, and at a daypart level giving unrivalled insight into the usage and behaviour of an audience, and also provides the essential data needed to review performance, monitor competitor position, and inform future planning and decision making.
For online retailers, growing sales in the fourth quarter is a primary focus, and Ipsos Iris data helps to deliver ROI by enabling a closer look at performance on a month-by-month basis. Trending the retail sector in 2022 there is a 4% increase in average audience numbers in Q4 across the Retail & Commerce – Consumer Electronics Category.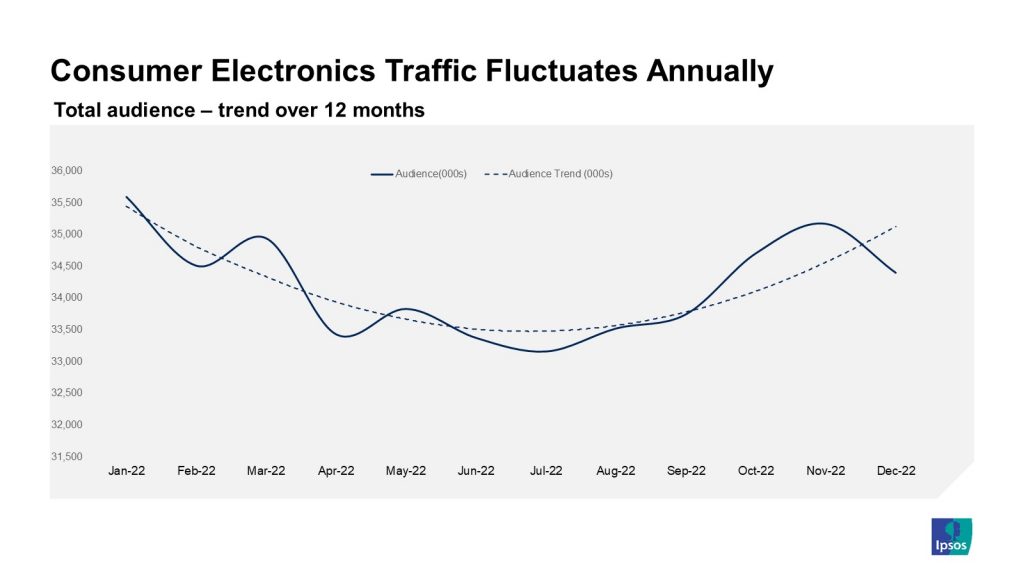 Understanding more about this key time of year is strategically important for retailers, and Ipsos iris data unlocks key information as to when the key traffic peaks are – vital information for growing both audience and sales.
A day-by-day analysis of the audience to Consumer Electronic retailers across November and December 2022 shows that key traffic growth drivers are around specific events. We see peaks in traffic around Black Friday and the Boxing Day sales which suggest key consumer buying times. The data also shows that November appears to be a more important time for Consumer Electronic retailers than December, with shoppers likely getting their purchasing done early.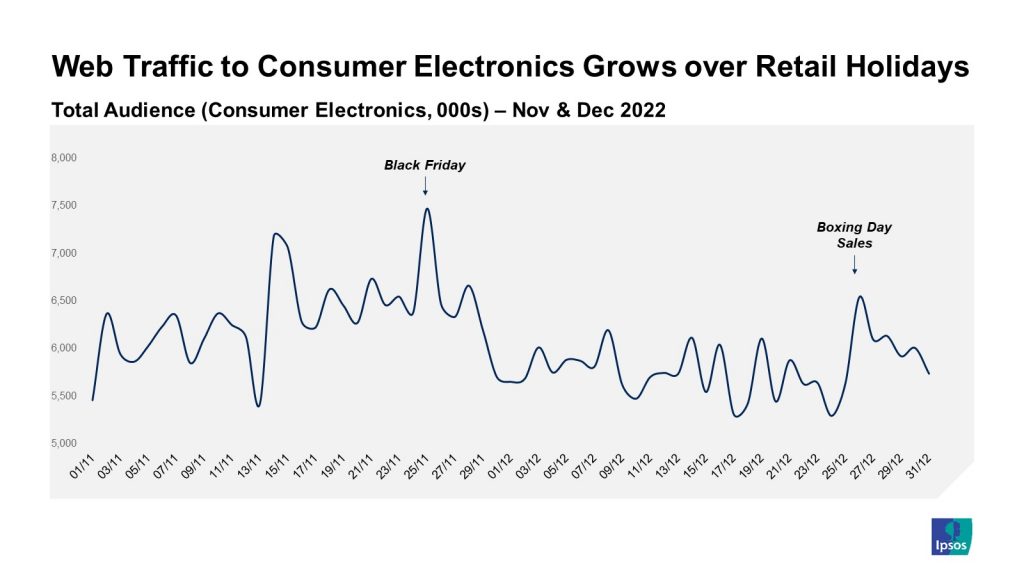 The top 10 brands for this period drove the growth with an overall audience share of 93%, with the top 5 (Apple, Currys PC World, Samsung, EE, and Google) leading. Easy access to this data helps marketers to evaluate past performance, understand relative performance versus their competition, and set KPIs to drive future growth.
Ipsos Iris data provides digital publishers and online websites with the data visibility and insight they need to understand their audiences at an unparalleled granular level. This data can be used to inform product development, marketing planning and performance, and to identify future opportunities for growth. It allows you to easily put data at the heart of your business decisions.