How do I leverage Ipsos iris Daily Data to gain a deeper understanding of online audiences?
Ipsos iris (the UKOM-endorsed solution for UK online audience measurement) was created by Ipsos to provide richer insights across online audiences. With a 36-hour turnaround time, Ipsos delivers daily data enabling users to understand the consumption habits of different audiences on online platforms and allowing media owners, agencies and brands to make informed decisions quickly.
Take the Euros as an example*. As you would expect, the home nations involved were loyally followed by their local fans. Given the ubiquity of football, the granularity of our data is valuable in allowing us to view regional trends, helping users to understand in (almost) real-time audience engagement levels by key demographics and in this instance by regions.
For instance, while we expect high engagement by those who live in England during England matches, we were surprised to see a large number of Scots tuned in to watch the England matches, as well.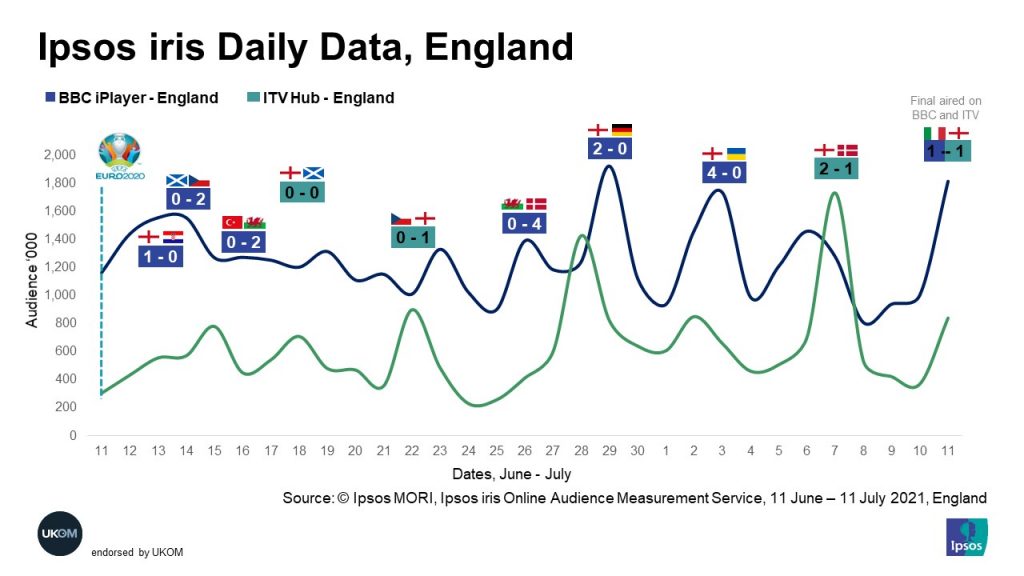 Furthermore, while the engagement was initially high across BBC iPlayer and ITV Hub (depending on airing rights), it waned as the group stages went on, only to pick up as the knockout rounds started again. As expected, viewing figures peaked with the final as audiences from across the nation tuned in to find out whether Italy or England would win.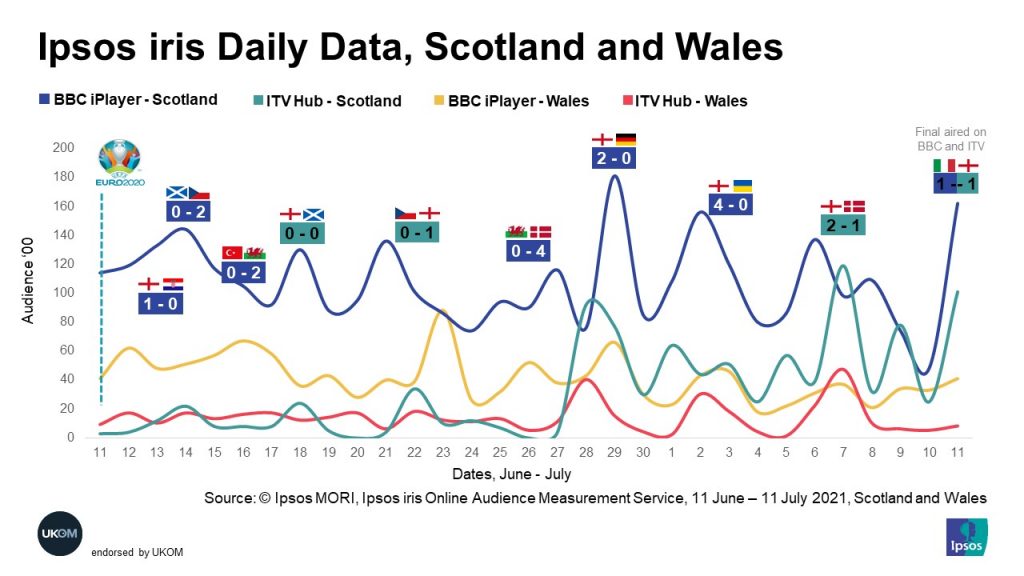 Football's apparent ability to bring audiences together suggests that advertisers wanting to reach football fans across nations should consider continuing their strategy around other major events in the footballing calendar, irrespective of which nation is playing.
As shown, Ipsos iris provides media owners, planners and buyers with greater insights to shape their advertising strategies and understand how different audiences consume different types of content to optimise content and advertising strategy on a daily basis. While we have focused on data by region in this article, we also measure and report daily on 1,800+ websites and 500+ apps, which can be reported by gender, age, region and devices.
While we can monitor the games, unfortunately, we cannot predict the outcomes. But, games with more goals tended to have higher engagement. So, if you want to get the most engagement, choose a game which will likely have more goals – admittedly easier said than done!
*Data for BBC iPlayer and ITV Hub is APP only, on smartphones, tablets and desktops and includes audience data for the whole day.
Stay tuned for more in our 'You asked, we answered' series, as we will be sharing insights around the Olympics and other events.