Welcome to the April 2022 Digital Market Overview. Using UKOM approved data from Ipsos iris, which launched in 2021, the DMO provides a top-line snapshot of the UK population's online behaviour across PCs, tablets and smartphones.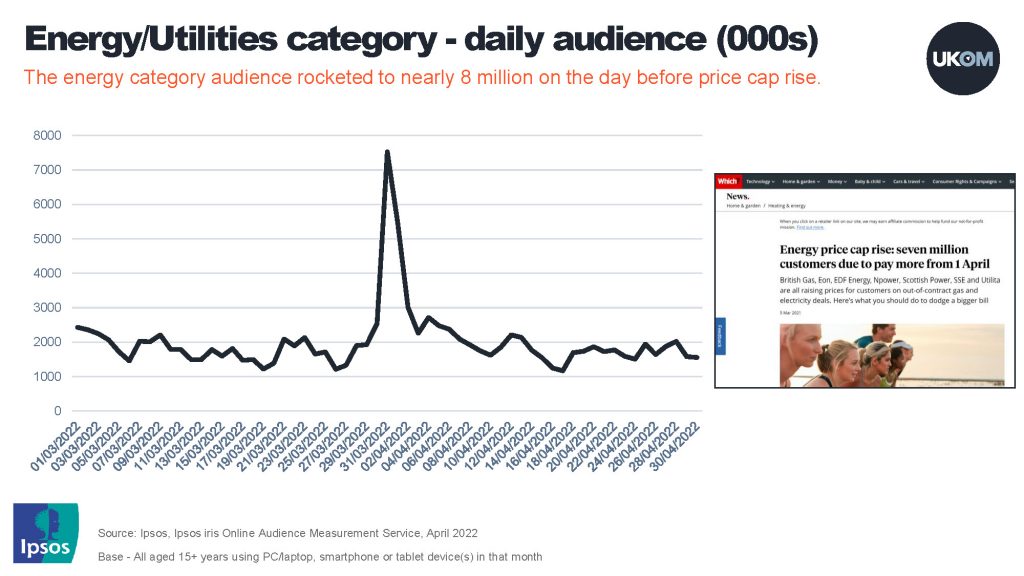 Source: © Ipsos, Ipsos iris Online Audience Measurement Service, April 2022
Key insights include:
At the organisation level, the most notable change since January was the decline in audience for the NHS (-5.9m) and government services (-3.6m). The government dropped out of the top 10 and was replaced by News UK.
The top 10 online brand groups remain unchanged. Google, Facebook and YouTube continue to be the top three – all reaching over 90% of those online aged 15+.
The category which had the biggest audience uplift compared to January was energy and utilities with an additional 1.3m visitors. Exploring daily data from Ipsos iris showed that on 31 March, the day before the price cap change, the daily audience went up from its typical level of two million to almost eight million in a single day.
Online gambling and sports services also witnessed large gains in April. A closer look at daily data shows that the Grand National on 09 April was the major reason – visitors to sports betting services starting to climb from 1.3m a few days ahead of the event to 3.2m on race day.
A couple of other categories which have continued to grow as the country recovers from the pandemic are travel and events & attractions. With the exception of cruises, all main travel categories added audience between January and April. Rail and trains (+11.7%), tourist information (+11.8%) and airlines (+11.3%) showed some of the largest increases – the rail category's audience was over two million higher in April than January as people returned to work.
The total retail sector overall went down slightly (-1.6%) between January and April, however, there were a few sub-categories which bucked the trend. Unsurprisingly given the rise in travel and attractions, one of these was ticketing. Aside from Trainline (+1.9m), the growth of major online ticket services such as Ticketmaster, TicketSource and Eventbrite all contributed to the category uplift. The confectionery and flower retail categories also grew – most likely due to Easter.
If you would like to know more about Ipsos iris, contact us at: support@ipsosiris.com