How do I grow market share?
By relying on digital analytic tools to understand your own website audiences, you can only get part of the picture. To drive and grow market share, a more holistic view of your market and your relative performance against competitors is vital.
Here we explore an illustration of the value Ipsos iris can bring by exploring the cruise sector. While massively impacted by the COVID-19 pandemic, bookings are back in growth as people return to holidaying.
The total audience size of these key players is 1.6m, accounting for 3.2% of the total UK digital audience. The sector achieves high engagement levels and people spent on average 16.52 minutes per person on these websites planning and booking cruises in October 2022. P&O Cruises is the no.1 player in the market in terms of audience size and market share.
By taking a closer look at the audience profile and behaviour of users we can segment the market and inform audience growth, marketing, and targeting strategies. The graph below compares the audience profile of P&O Cruises with Royal Caribbean. P&O Cruises reaches a much older audience of traditional travellers who are returning post lockdown, whereas Royal Caribbean are attracting much younger cruise go-ers.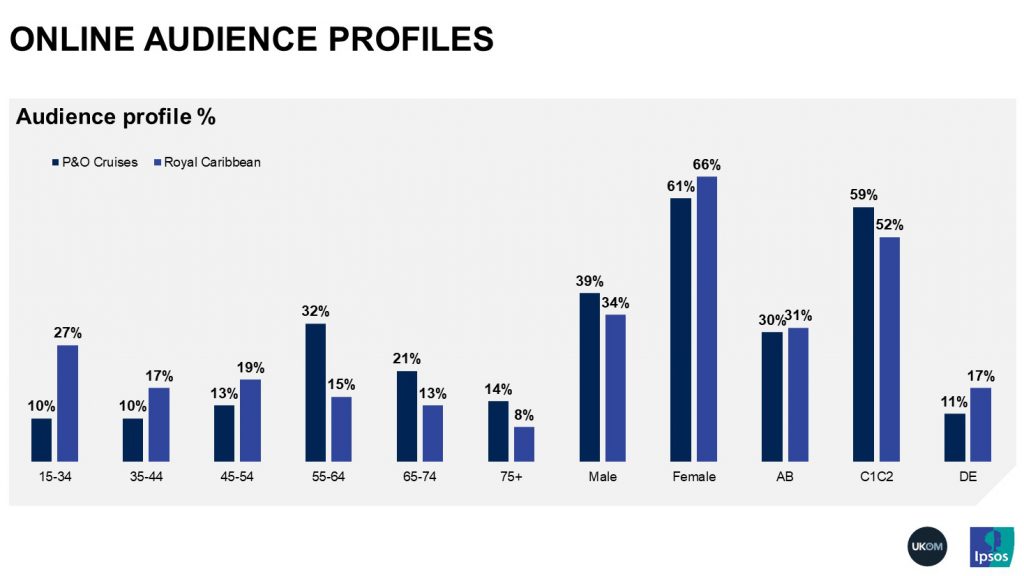 Understanding the different audiences and monitoring this over time helps to strengthen market position, and importantly it helps to identify opportunities for new target audiences, markets, product offerings, and growth. The graph below tracks the total audience of P&O Cruises vs. Royal Caribbean over the last year, and you can see the intensely competitive nature of the market as it returned post COVID-19. P&O are currently benefiting from this, outperforming Royal Caribbean since April 2022.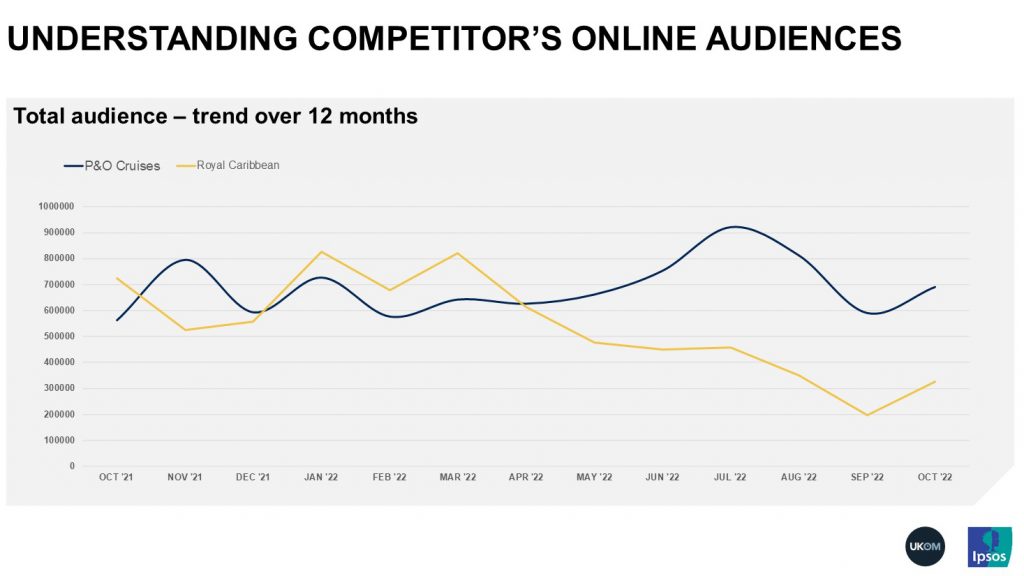 Ipsos iris can provide you with the competitive intelligence and insight you need to gain a deeper understanding of your competitors, build market dominance, target and segment key audiences more effectively, and to transform your growth strategy.
For more information about how Ipsos iris can answer your key business questions, fill out the form here or contact the Ipsos iris commercial team.