15/08/2023
England's quarter final clash with Colombia on Saturday gave the ITVX app its highest audience of the year – in England, at least.

Ipsos iris data shows that 749,000 people in England used the ITVX app on Saturday, 12th August, 96% higher than the app's average daily audience this year.

This is also a 9% increase compared to the previous peak for 2023: the Community Shield match between Arsenal and Manchester City the previous Sunday (6th August).

England's previous game, a round-of-16 tie against Nigeria won on penalties, saw the BBC iPlayer app record its highest audience of the last four weeks.

With England's semi-final match against Australia taking place on the BBC tomorrow, there are more records which could be broken.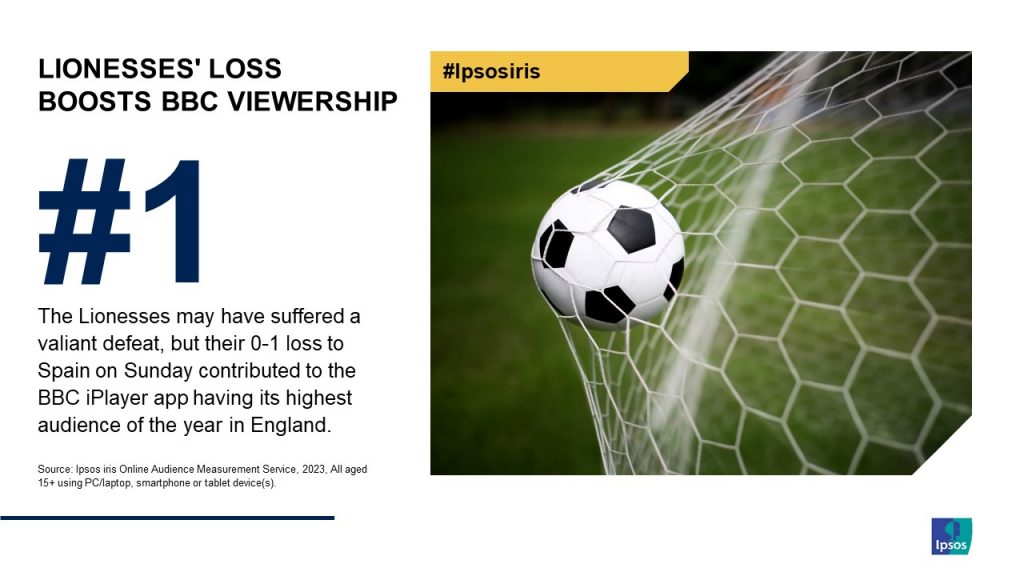 22/08/2023
Following the dramatic Women's Football World Cup final on Sunday, Ipsos iris can reveal that their loss against Spain contributed to the highest audience numbers for the BBC iPlayer app so far this year.

Looking at the app's usage on Sunday, (1.88m) people accessed the app, many of whom will have tuned in for the football.

This narrowly beats the King's Coronation (1.81m) as the most watched event of the year so far on phone or tablet for the BBC.