Welcome to the December 2022 Digital Market Overview. Using UKOM endorsed data from Ipsos iris, which launched in 2021, the DMO provides a top-line snapshot of the UK population's online behaviour across PCs, tablets, and smartphones.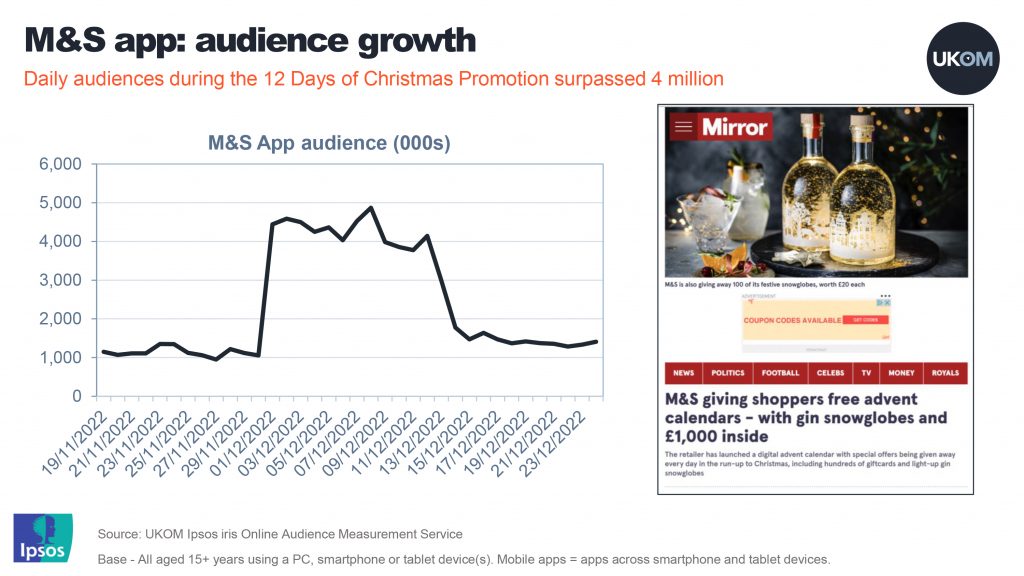 Source: © Ipsos, Ipsos iris Online Audience Measurement Service, July and September 2022
Key insights include:
The top 5 organisations and brands by audience remain unchanged between September and December but ByteDance (TikTok) and Tesco enter the top 10.
Whilst popular social media apps rank highest for time spent on smartphones, tablet devices are popular for watching video. YouTube, Netflix, BBC iPlayer, TikTok, ITVX and Amazon Prime Video all featured in the top 10 for total tablet minutes in December.
Unsurprisingly, December was a particularly strong month for both retailers and parcel delivery services. Compared to September, Royal Mail (+5.7 million) added more audience than any other organisation with EVRi (+4.3 million) also seeing significant growth.
M&S was one of the most successful retail brands at adding audience– its '12 days of Christmas' drove millions to the app. Over the course of the promotion, over 4 million people visited the app each day, compared to only around 1 million each day at the end of November. Overall, M&S's audience was 5.5 million higher in December than in September.
Other major online retailers which did particularly well in December in terms of audience included Argos (+4.3 million), John Lewis (+4.1 million), Etsy (+3.7 million) and Boots (+3.1 million). Some of the smaller websites but fastest growing in percentage terms included Menkind, The Perfume Shop and The Fragrance Shop – all had over 1 million visitors in December and all grew by 200% or more as people shopped for Christmas gifts online. The online greeting card website, Jacquie Lawson grew even more – over 3.1 million visited in December, an increase of 2.6m or 556% versus September.
The FIFA World Cup drove audiences to the mobile apps of ITVX and BBC iPlayer. Shortly after launching, 1.6 million people visited the ITVX app on 10th December – the day of the England v France quarter final. Football also attracted people to the Amazon Prime Video app in late December as 10 premier league fixtures were streamed live on the platform. On Boxing Day, the app's audience was 86% higher than the day before.
As the NHS dealt with strep A, covid, seasonal winter illness as well as an ambulance strike, visitors to the NHS 111 website more than doubled between September and December as parents in particular sought advice online.
Elon Musk's takeover of Twitter dominated the news at the end of 2022. Twitter's audience was 1.2 million (-4.2%) lower in December compared to September but total minutes (-21%) were down much more as visitors spent on average 29 minutes less time on the platform.
Daily data from Ipsos iris really illustrates just how people's online behaviour changes on individual days over the festive period. Whilst on Christmas Eve they were looking at the BBC Good Food website and tracking Father Christmas on the NORAD Santa Tracker app, on Christmas day they were more likely to be playing online games and exploring what to watch on TV. In addition to watching Premier League football on Amazon Prime Video, on Boxing Day many turned their attention back to online shopping – most likely hoping to grab a bargain in the sales.