How do I gain a better market understanding through advanced audience segments?
Granular audience profiles can help you understand and navigate market changes. For instance, in financial services it is estimated that by the end of 2022, 93% [1] of the UK adult population will be using some form of online banking, a much higher level than pre-pandemic (78%). Given the competitive nature of financial services, a better understanding of the online behaviour of your target audiences, both in relation to your brand and to competitors, can help you better reach and communicate with them and ultimately affect their purchase decisions.
For instance, Ipsos iris data shows that in February neo-challengers (banks without a high-street presence, such as Monzo or Starling) reached 20% of the total UK internet population aged 15+, but have the strongest affinity amongst Rising Metropolitans (defined by CACI's Fresco segments).
Rising Metropolitans are:
• Young singles and couples living in large cities, often in areas of high property value
• Working professionals in white-collar jobs, often with higher-than-average incomes
• Financially savvy and own an above average number of financial products
• Likely to have loans and credit cards.
Demographically:
• Their largest audience is aged 25-34
• They reach all ethnic minorities, but whites are their largest audience
• Although a large proportion of their audience do not have kids, they tend to have a higher affinity with those who have younger children
• Their audience belongs to higher social grades, as reflected in higher-than-average incomes.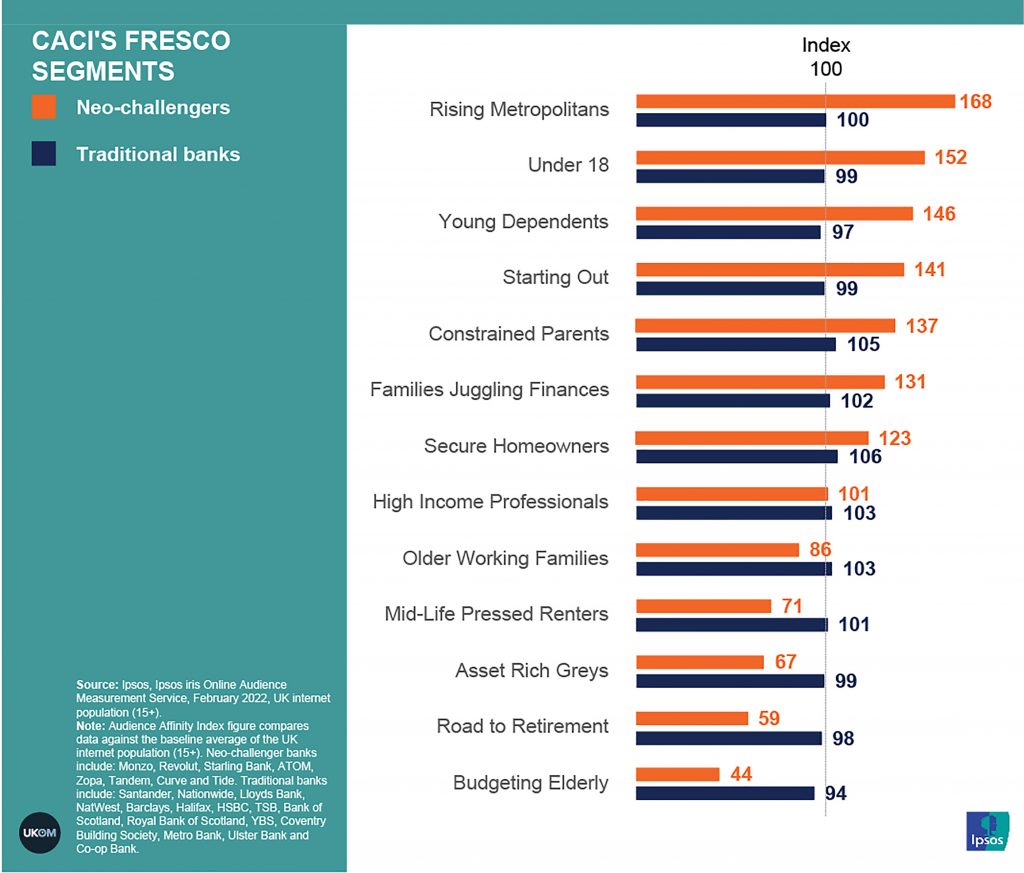 This granular picture of online customers is just one example of how marketers can identify, and look to target specific audiences. Understanding an audience's life stage and financial profile can enable more effective communication with them and help brands tailor products and services to meet their needs.

Ipsos iris provides a total understanding of UK online audience behaviour. Its wide range of segments, including standard demographics, can help you find ways to grow and retain your audiences.
For more information about how Ipsos iris can answer your key business questions, fill out the form here or contact the Ipsos iris commercial team.


1 https://www.finder.com/uk/digital-banking-statistics#:~:text=Online%20banking%20popularity%20has%20increased,Brits%20are%20using%20online%20banking