How can I prove the value of my brand?
Ipsos iris equips commercial teams with the audience insight and ammunition they need to develop and win business. As well as providing reach metrics for thousands of websites and apps, iris also offers extensive audience profiling capabilities and a range of engagement metrics that can help any brand demonstrate their value.
Take Channel 4: one of its core purposes is to create change through entertainment by representing unheard voices and challenging with purpose. By bringing their audience to life, we can see how this unique identity makes Channel 4 a valuable partner for advertisers.
When we profile Channel 4 on Ipsos iris the audiences spending time engaging with the brand are clear: younger adults who care strongly about social causes such as the environment, ethical consumption, and diversity and inclusion. This data can therefore be used to validate Channel 4's brand segmentation and deliver key insights in granular detail.
Nationwide is another brand that does a lot of work to promote equality, such as through their Nationwide Respect campaign. This perfectly aligns with Channel 4's ethical and inclusive strategy and explains why they have partnered up many times previously. How can iris demonstrate the synergy between the brands and prove the value of the partnership?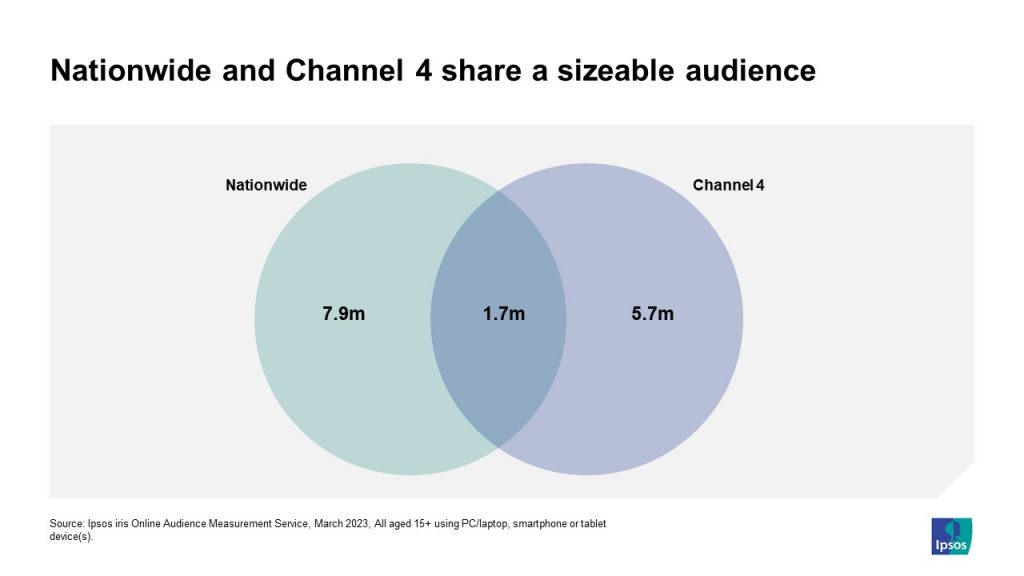 The foundation of a good partnership is a shared audience. Ipsos iris data shows that 9.6 million people visited Nationwide via its website or app in March – that's 19% of all internet users in the UK. However, 23% of Channel 4 visitors (1.7 million of them) also visited Nationwide, meaning that Channel 4 visitors are 20% more likely to visit Nationwide online compared to the total internet audience.
But we can go further. Ipsos iris also allows users to profile audiences based on attitudinal statements, meaning for activity like Nationwide Respect campaign we can target segments for whom social causes are particularly important. Channel 4 visitors who agree that they 'only buy products from a company whose ethics I agree with' are even more likely (+26%) to visit Nationwide online compared to the average internet user that agrees with the statement.
We can see a clear synergy between the brands, particularly around these ethical buyers. But if we look specifically at visitors aged 18-24, a group Channel 4 performs particularly well with, we can see even stronger evidence of the benefits of their past and present collaborations. Channel 4 visitors in this demographic are 68% more likely to visit Nationwide compared to the average internet user. This rises to a hefty 132% more likely if we look at 18-24 year olds who agree they buy from ethical companies. Channel 4 offers the opportunity for Nationwide to not only engage this socially engaged audience, but to also build its brand among a young audience.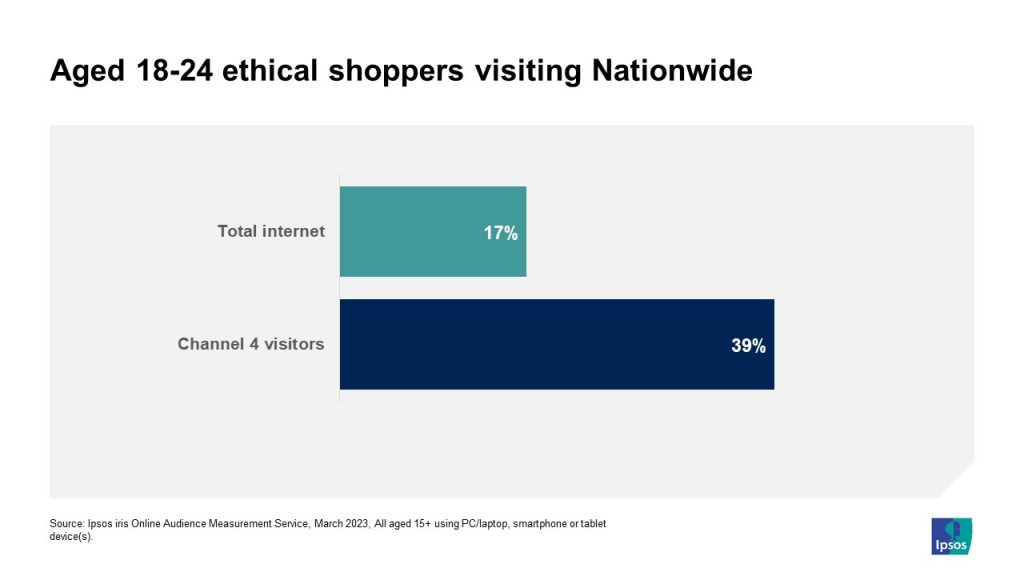 So, we can see why Nationwide would want to include Channel 4 on any media plan, particularly one where engaging a younger audience is part of the brief, and especially as their brand values align.
If you want to take the conversation beyond just reach and traffic numbers – Ipsos iris is here to help. As the UKOM endorsed service for online audience measurement it is the trusted source of audience insight for online brands. It directly supports commercial teams with business development, pitch responses, campaign planning, and the creation of sales collateral.
For more information about how Ipsos iris can answer your key business questions, fill out the form here to contact the Ipsos iris commercial team.