Download the Report without Transcript
Click to download the presentation without transcription in pdf format.
Feel free to share this with colleagues and contacts.
Reach out to our team to ensure that you receive future analysis and reports by emailing sales.iris@ipsos.com
Download the Report with Transcript
Click to download the presentation with transcription in pdf format.
Feel free to share this with colleagues and contacts.
Reach out to our team to ensure that you receive future analysis and reports by emailing sales.iris@ipsos.com
 On 19th September, the Ipsos iris team presented the most recent findings and insight on online shopping and retail. This discussion, titled 'Unlocking the Online Opportunity', aimed to highlight crucial trends and shifts in the online retail landscape. The session provided valuable insights into the growing potential of digital retail sales, including expanding market size, the proliferation of categories available online, and the growing prominence of retail media advertising.  
We also delved into the rising significance of mobile apps in the shopping process, the valuable role of loyalty schemes in driving customer engagement, and the rise of disruptor brands who are reshaping the industry through aggressive pricing strategies.  
On this page you can access all digital resources from the webinar, including the recording, a transcript, and two versions of the presented slides – one with Ipsos iris' comments, the other without.  
The opportunity
This webinar is titled 'Unlocking the Online Opportunity'. Opportunity being the operative word. 
The size of the opportunity in online retail is huge – and it's only growing. We've identified three key reasons: 
Digital's growing share of retail sales 
According to the ONS, there were £103 billion worth of retail sales in Great Britain in 2022. And over a quarter of these sales – worth £27 billion – took place online. 
Looking over the last 10 years, we can see this is part of a distinct upwards trend that shows no signs of abating. In 2013, around one in 10 retail sales took place online – just a decade later and this figure has shot up to one in four. 
By utilising Ipsos iris, we can see that 49 million people across the UK now access online retail sites in the UK each month, which is 98% of the online population. 
In fact, we spend 8% of our time online on shopping sites, which equates to 8 hours 43 minutes a month, or 17 minutes a day 
The increasing breadth of the category. 
In Ipsos iris' data, 'retail' spans over 2,000+ sites, 280+ apps and 29 different categories. Within each of these categories we get different brands, different business models and different channels.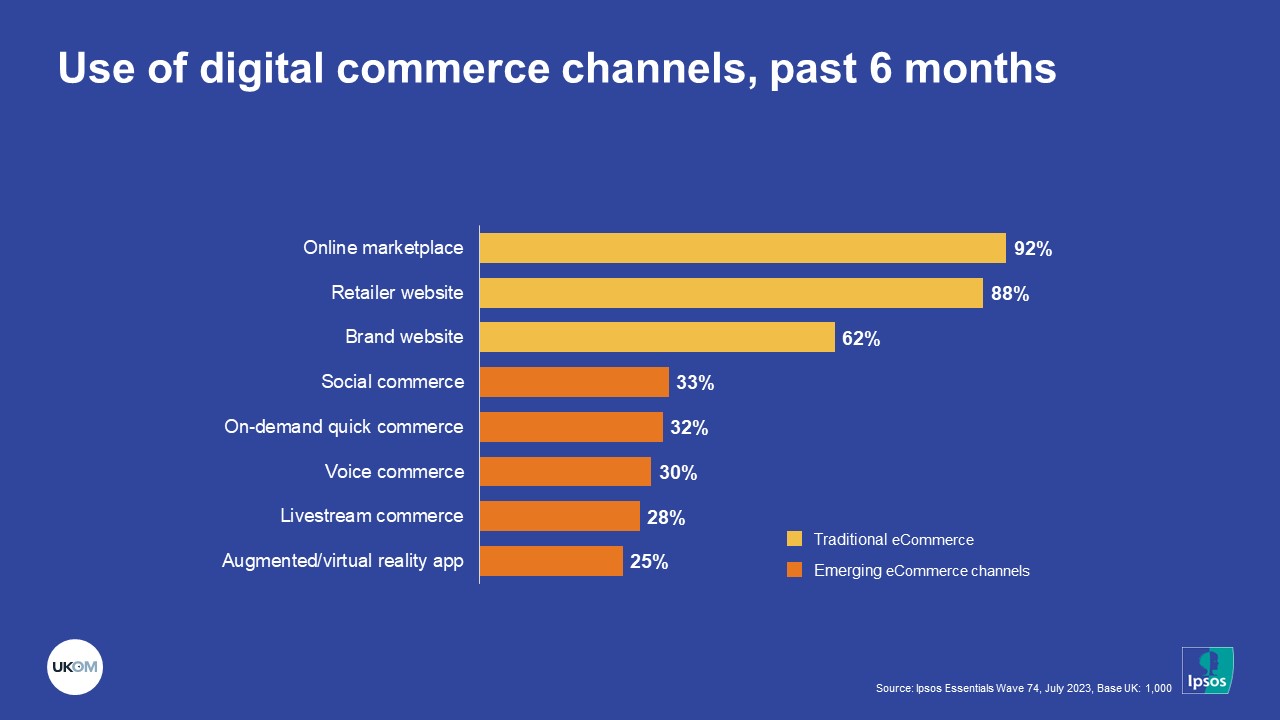 According to data from our Ipsos Essentials team, who run a tracker that monitors shopping habits, most people in the UK have used traditional e-commerce channels like online marketplaces (92%) or retailer websites (88%) in the last 6 months.  
However, we can also see that around a third of people have used social commerce (33%) and on-demand quick commerce (32%) – so rapid fulfilment companies – while over a quarter of people have used livestream commerce in that time (28%), with a similar amount shopping using augmented reality or virtual reality apps (25%). 
Suddenly, supermarkets are competing with the likes of Deliveroo and GoPuff, while H&M is competing with marketplaces like Shein or social media brands like Snap and TikTok. The competitive set has never been broader. 
Advertisers are moving to retail media 
Retail media has become a hot topic in the retail category: it promises to deliver large revenues for retailers, and effective, transparent advertising for marketers. 
According to GroupM, retail media will account for 13% of all advertising spend in 2023 – totalling $126 billion. Like online's share of retail sales in Great Britain, this number is only expected to grow. In fact, retail media is expected to overtake television as an advertising medium in 2028. 
Between these three big shifts in retail – amongst shoppers, retailers and advertisers – it has arguably never been more important to understand how the online retail landscape looks. 
That is, of course, where iris can help. 
We've looked across our 29 categories over the last twelve months from the top of the industry down to the smallest players to identify the key insights to help understand and, indeed, unlock this online opportunity.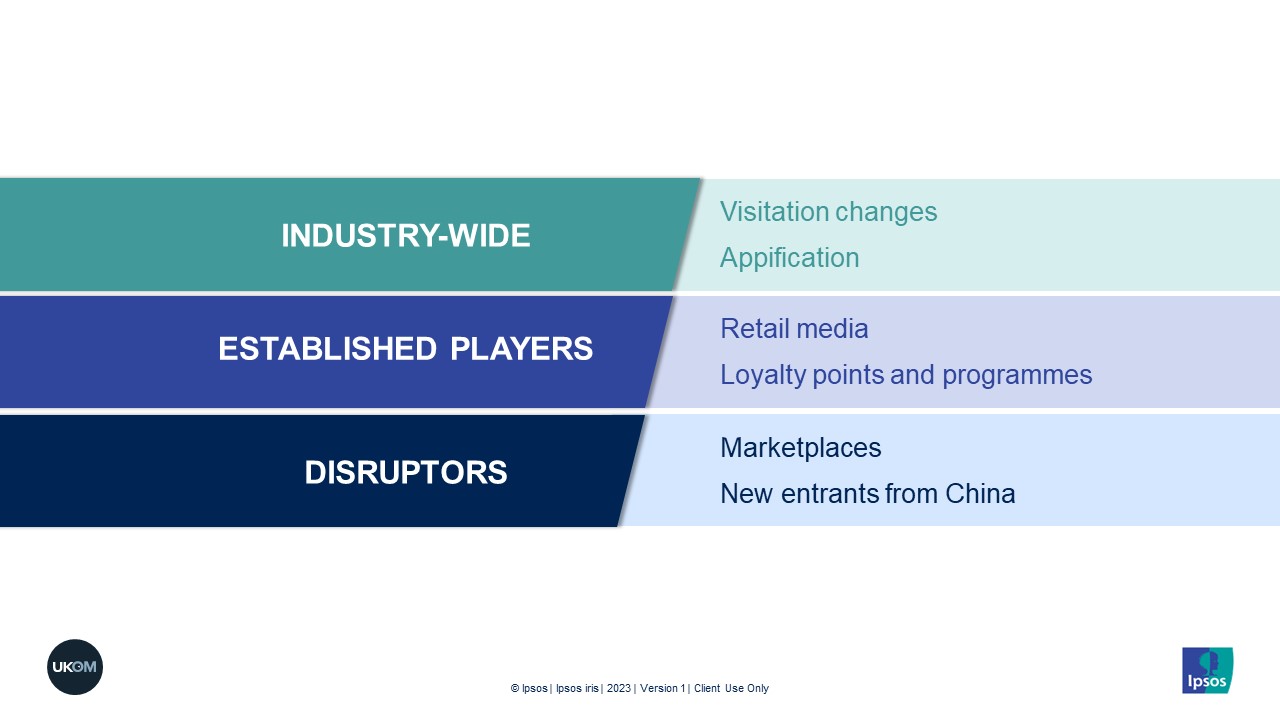 We'll be covering three different levels of retail: looking at the industry wide trends including the 'appification' that has taken place during the last year; looking at the impact of retail media on the established players in the market and how this is driving a move towards loyalty and reward programmes, before finally looking at the disruptors that have entered into the market: which audiences they're having success with and which brands they might be the biggest threat to. 
Industry-wide trends 
Visitation changes 
Despite tough economic conditions, the overall retail market has remained stable over the last year. The total audience for retail has been almost static – falling slightly from 49.0 million visitors in July 2022 to 48.9 million in July 2023 – while there has been a slight increase in time spent (+1% from 25.8 billion to 26.0 billion minutes per month). 
The overall picture is a flat one. 
However, when we break it down by subcategory, it's much more of a mixed picture, with more categories having shrunk than have grown.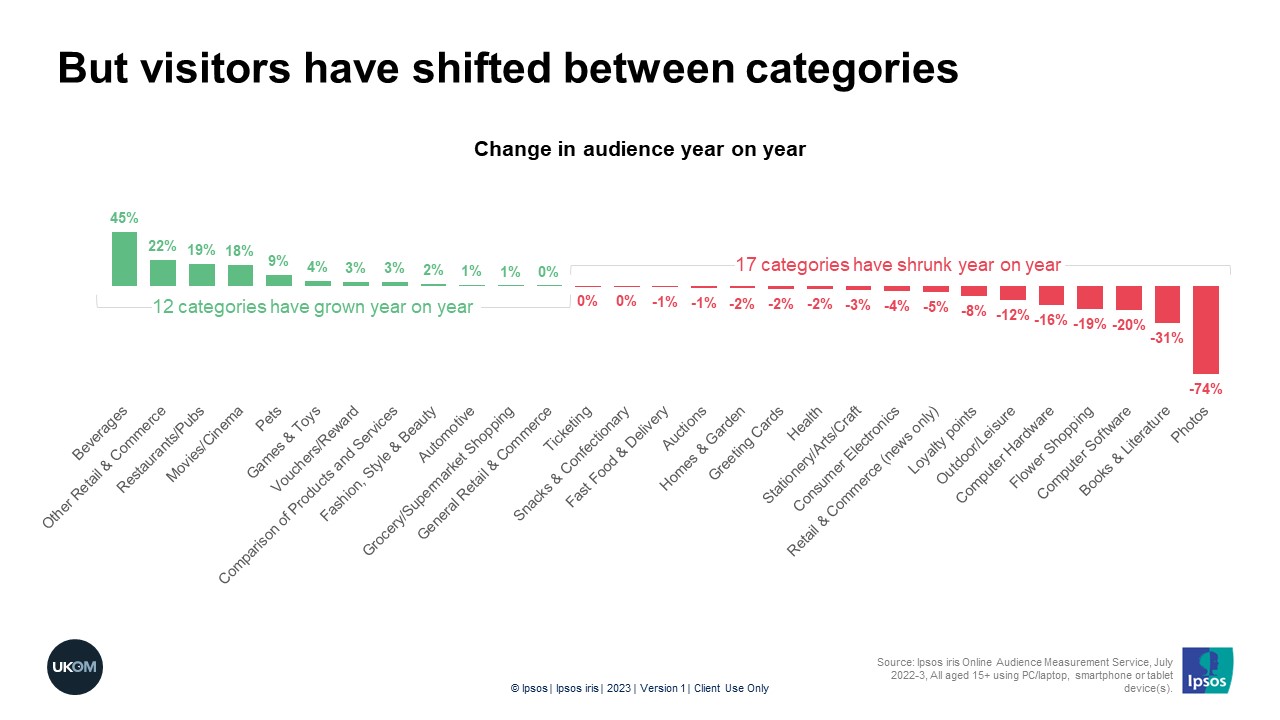 There is not a perfect trend, but there appears to be some logic to the categories that are growing during a cost of living crisis. Categories that help save visitors money are growing, like voucher sites (+3%) and comparison sites (+3%). Essential or everyday categories like Grocery and Supermarkets (+1%) or Fashion, Style and Beauty (+2%) have also seen small increases in audience. 
We can also see that sites which revolve around going out – and reside in categories such as restaurants and pubs (+19%) and movies and cinemas (+18%) – have been some of the fastest growing over the last twelve months. 
On the flip side, the categories shrinking tend to revolve around less essential items like fast food and delivery (-1%) and flower shopping (-19%). Tech categories including consumer electronics (-4%) and computer hardware (-16%) and software (-20%) have also shrunk. 
Our data suggests brands which rely on non-essential item sales may have to work harder to generate growth. 
Appification 
That's where people are accessing retail sites, but we can also see how they're doing so. 
In July 2022, 61% of all time spent browsing retail brands took place on apps. Twelve months later and this figure has increased by seven percentage points to 68%, meaning more than two thirds of time spent visiting retail brands is now done via an app. 
We can see that this increase is more pronounced across certain categories, such as Fashion, Style & Beauty, which has seen a massive 27 percentage point increase in time spent via app, as well as grocery, which has seen a 16 percentage point increase over the last year. 
This is in part because we've seen the number of retail apps in the market increase. 
We reported on 288 retail apps in July 2023, compared to 257 the previous year. So, more retailers are offering apps, which means people are likely to be spending more time across them. 
However, if we look at the top ten fashion retailers – that had an app 12 months ago – we can see there is also a clear shift in behaviour.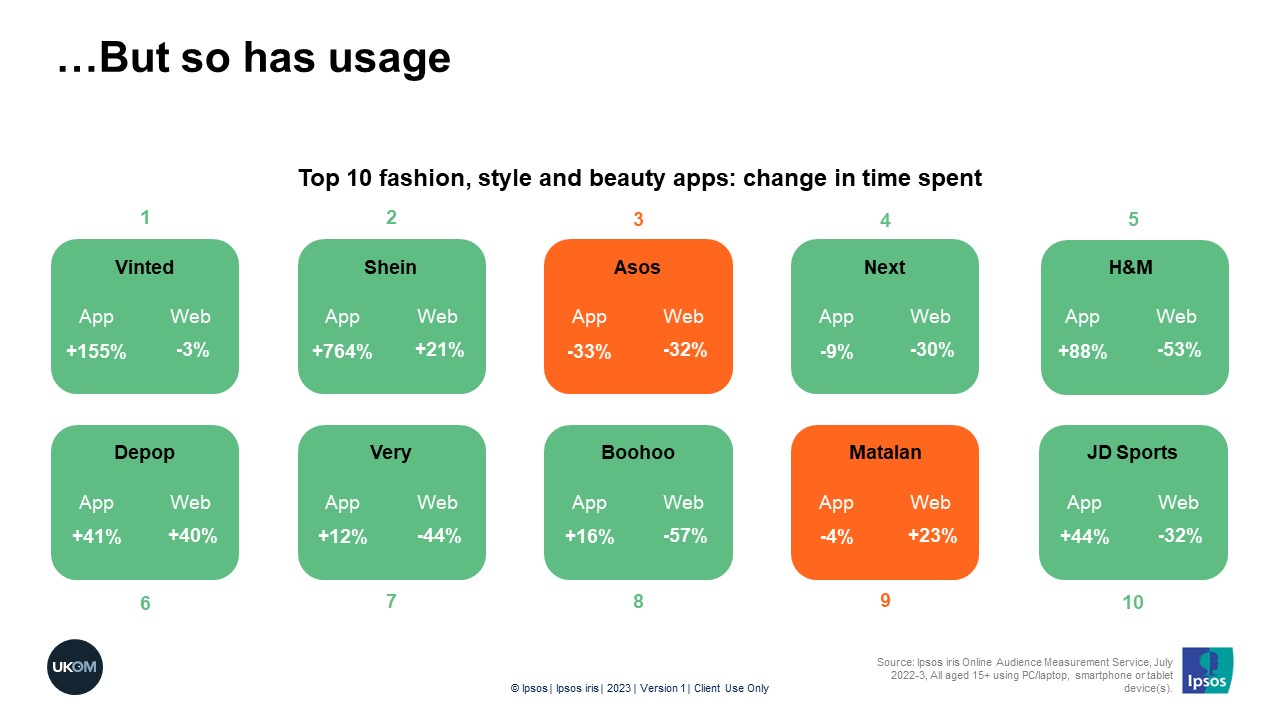 For all but two of the retailers, we can see that time spent on the app is either rising faster or falling more slowly than the web.  
Whether this is shopper or retailer-led, there is a clear shift. 
Summary 
When we look across the industry, brands that rely on non-essential categories will have to work harder to generate growth. Categories like flower shopping and computing have seen some of the biggest falls in visitors year on year.  
Secondly, we're seeing movement toward apps. We hear about mobile first, but across many categories, we're now looking at app first.  
This means that marketing and customer experience activities should be optimised to drive people to download and use apps, to capitalise on this increased engagement. 
Established players 
Exclusive deals and loyalty programmes 
We now move down from this industry-wide pattern to focus on what we're calling our established players.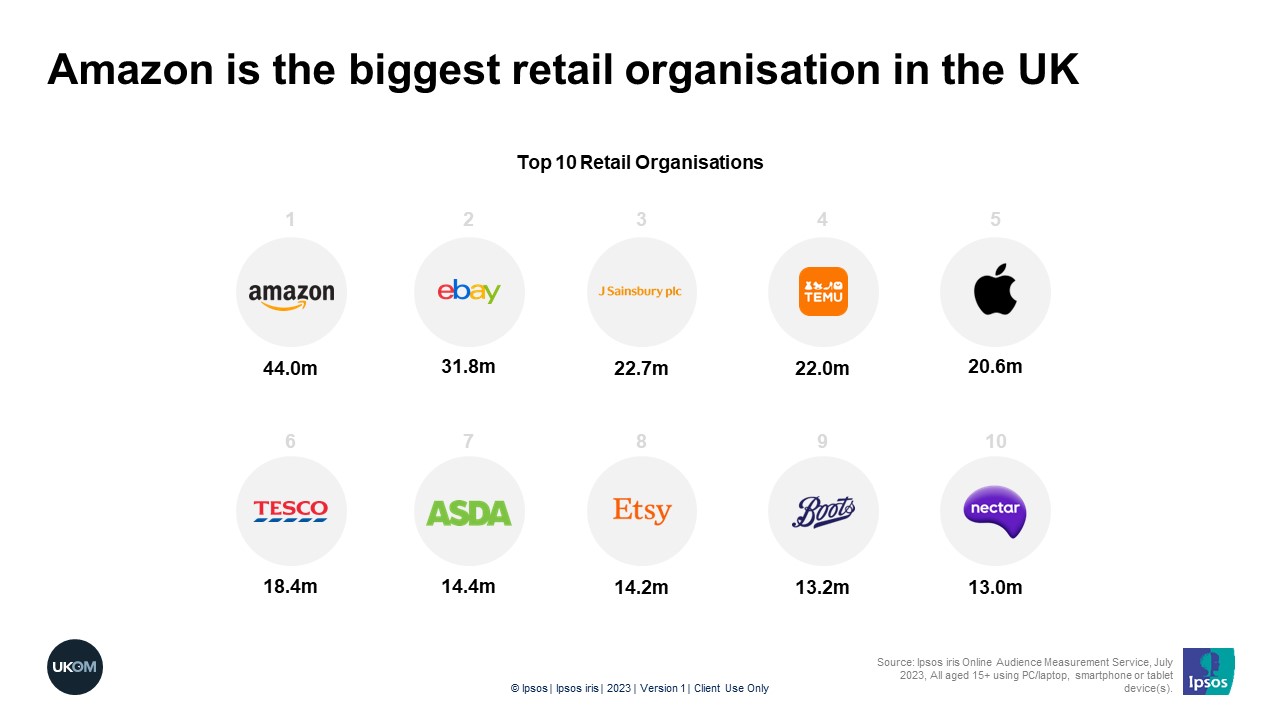 Looking across the top 10 retail organisations in the UK, Amazon is comfortably the biggest name, with the rest of the top 10 dominated by major high street names, as well as a few technology-led brands like Apple, Etsy and Temu. We'll have more on Temu later. 
The top 10 retail organisations are also some of the biggest names in retail media. Again, Amazon is the biggest name in retail media both in the UK as well as globally.  In fact, according to MediaRadar, Amazon accounted for 37% of retail media spend in 2022. 
Focussing on Amazon, we can see it has a monthly audience of around 44 million people a month, meaning it reaches more than 90% of the UK internet all by itself. Amazon has the 4th most visited website in the UK, behind Google, Facebook and YouTube. It also accounts for 18% of all time spent on retail sites and apps in the UK. 
Its share of the total time spent in the retail category fluctuates throughout the year, increasing in Q4 in the build up to Christmas and peaking at 22% in December. 
That's if we break down engagement by month. 
However, when we break down visitation to Amazon by day, we see that it has the greatest share of retail engagement during its two-day Prime Day event. Here it accounts for an incredible 34% of all time spent visiting retail brands. This is particularly impressive given the deals it offers are only available to Prime members. 
Prime Day is part of a wider pattern we see across the biggest retail brands, with a growing emphasis on loyalty, reward schemes and exclusive access to offers. Nowhere is this truer than in grocery, with the likes of Sainsburys, Tesco and Asda.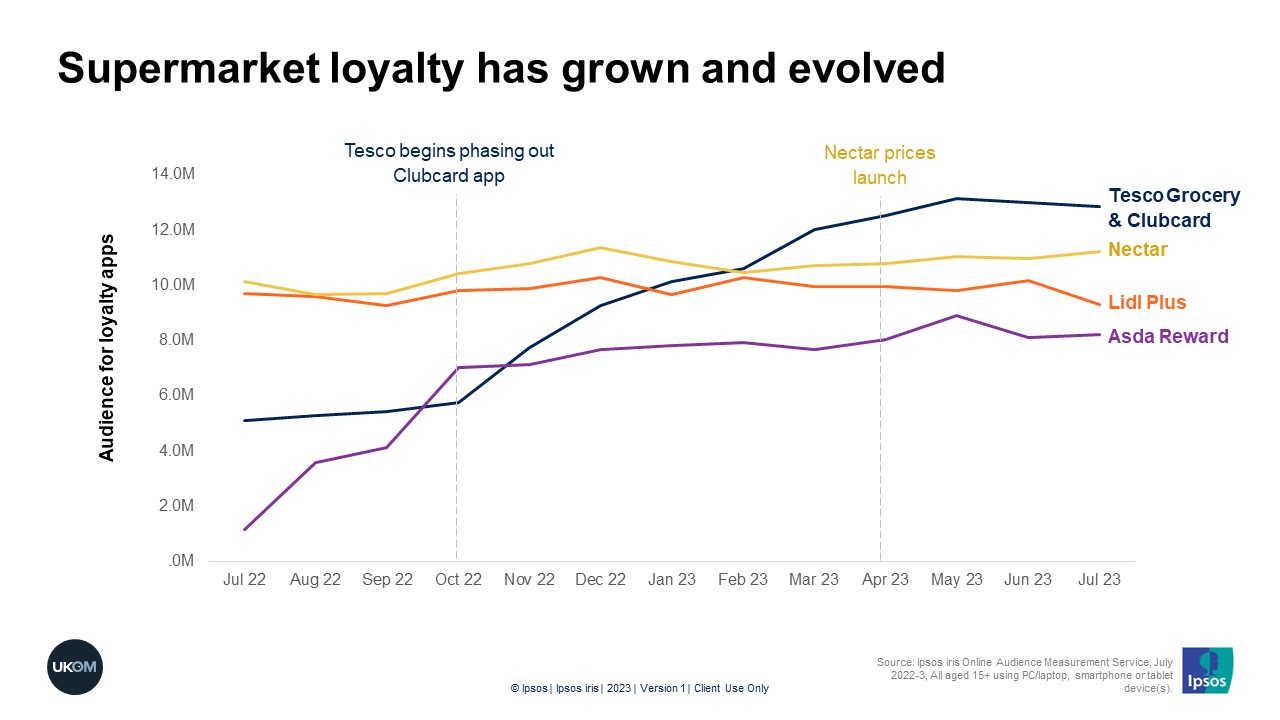 For these brands, loyalty has been a key area of competition over the last 12 months. 
Asda launched its own reward scheme last summer, which has very rapidly grown an audience of between seven to eight million users a month.  
Meanwhile, towards the end of last year Tesco announced it was consolidating its Grocery and Clubcard app, a move which saw its app overtake Nectar's for the first time in February this year. 
A couple of months later, in April 2023, Sainsburys launched Nectar Prices, following Tesco's lead in providing exclusive pricing for loyalty card holders. 
The reason for this push into loyalty is two-fold. 
The first is to increase customer stickiness to grow market share. 
In terms of audience, the launch of Asda's reward scheme has been very successful, both in terms of the large number of users it has amassed as well as the overall impact on the online presence of the brand. 
Over the last year, Asda has seen by far the biggest increase to its audience (+25%) among the top ten grocery retailers, making it the fourth fastest growing retailer by audience, across any category, over the last 12 months. It saw 2.9 million more people access its site or app in July 2023 compared to the same period last year. 
The other big change in the grocery category comes from Aldi, whose audience has dropped by over a third year on year. 
In terms of volume, it has been the biggest fall of any retailer over the last twelve months. Counterintuitively, for Aldi, this may not be a huge concern: they are the only supermarket on this slide to not offer home delivery, and they are one of only two brands to not have a loyalty scheme – the other being Ocado. Digital has not been a big focus for Aldi, as its priority is price.  
For a long time, Asda has been similarly price-focused, and concentrated on keeping prices low, rather than launching a scheme to compete with the likes of Clubcard and Nectar. 
So, what's changed? Over the last few years, like many supermarkets, Asda has been losing market share while Aldi continues to grow. 
Using Kantar Worldpanel's grocery market share data, we can see that over the last six years, Asda has seen its market share drop from 15.1% to 13.6%, while Aldi's has gone from 7.0% to 10.2%. 
The gap between the two brands is shrinking. 
Perhaps this is one of the reasons why Asda has finally moved into the loyalty space after so long, as it may be struggling to compete on price alone.  
Retail Media 
The second reason for this push into loyalty is the data it will yield. 
Tesco and Sainsburys now both offer reduced prices aimed exclusively at reward scheme members — with the Co-op following suit. 
As well as driving customer stickiness, this will also drive engagement with the scheme – hopefully meaning more swipes at the till – to give the retailers even richer data about their customers. 
This data will then fuel Tesco and Sainsbury's retail media offerings via their data arms of Dunnhumby and Nectar360 respectively. The more data both retailers have on their customer bases, the better chance they have of competing with the likes of Amazon. 
One pain point that currently exists in retail media though, is the fragmented nature of the landscape. There is a lack of consistency across networks, which can make it hard to plan across them. One role that Ipsos iris can play, is helping you to understand the different audiences that each network will attract, and which one will best match your brand or product, as well as the cross-audience across networks. 
A lot of the focus within retail media is, understandably, on activation and conversion. But it's important to look at the full funnel and think strategically: you need to identify the best audiences to give you the best chance for consideration and ultimately a sale. 
Knowing the difference between two brands – and therefore the audience their networks reach – can help when planning retail media activity to ensure you're working with the right partners. 
Similarly, there is a lot of scope for collaboration in the retail media space, and brands form partnerships to share and unlock the full potential of their first party data. One example of a partnership from the last few months is between Tesco and Pinterest. Again, Ipsos iris allows us to explore the shared audience between these two brands, and what kind of audience will be found when working across both. 
Summary 
In summary, what we're seeing across our established players is a race to build and evolve loyalty programmes. 
But we've come a long way from just points and rewards, with initiatives like exclusive prices and sales events available only for signed-up members. Our data shows that these initiatives have driven incredible engagement for the likes of Amazon and have caused a large leap in online audience for the likes of Asda, which they will hope ultimately impacts market share. 
These schemes are also great for generating data that can fuel retail media. However, it's important to ensure that you are partnering with the right brands to reduce effort and increase effectiveness: that's where Ipsos iris can help you understand the different audiences across networks, ensuring a level playing field when allocating your marketing budget 
Disruptors 
Size and profile 
Looking outside of what we've deemed 'established' players, we can see the rapid growth of market disruptors.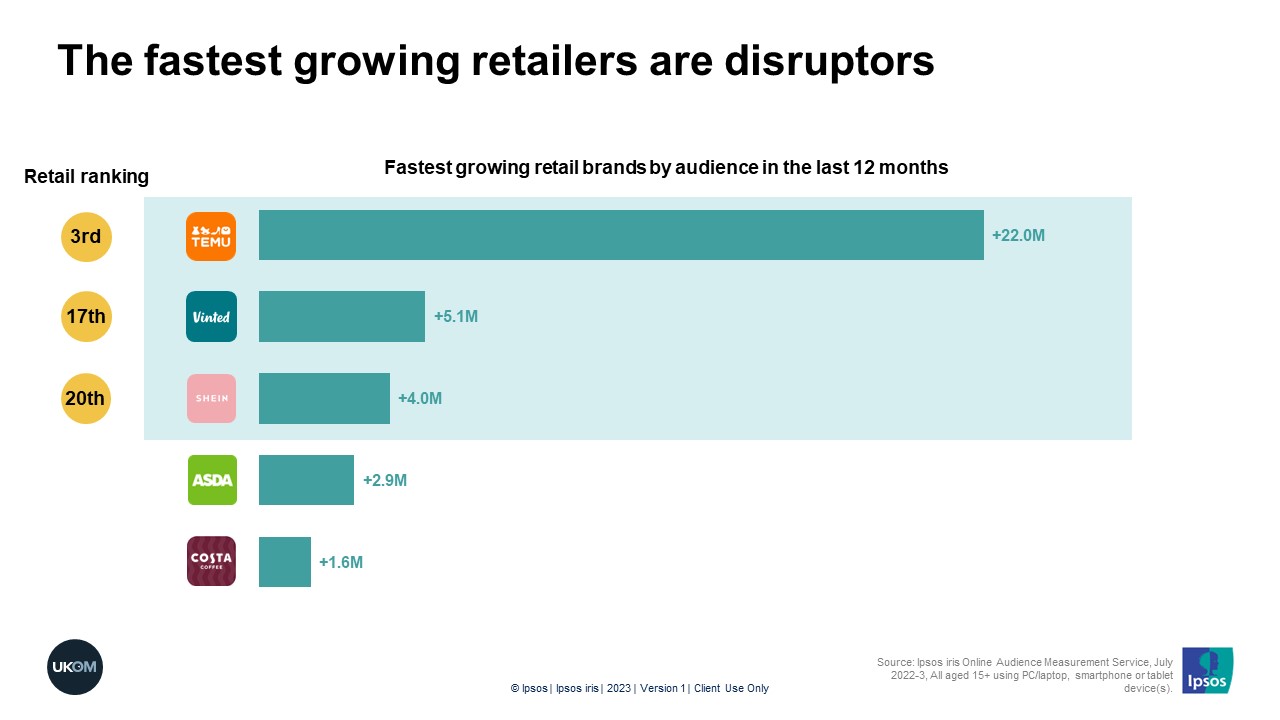 Across the top five fastest growing retailers over the last 12 months, there are three new players in the market at the top. 
First is Temu, which for the uninitiated is a major online marketplace from China, which sells a range of items from fashion to homeware to electronics, which has reached an audience of 22 million users in just four months. 
It has a large presence internationally, so it hasn't come from nowhere, but this still demonstrates how the shift to online means that the pace of change in retail has increased profoundly. It would take years and years to build up that level of impact on the high street. 
Temu is followed by another marketplace in Vinted, a Lithuanian retailer that enables users to sell and buy vintage or pre-owned clothes to and from one another. 
And then there is Shein, another major player from China, which has made a name for itself with its very aggressive pricing model. 
All three have broken into the top 20 online retailers in the UK, with Temu reaching third spot in just four months.  
While our established players are looking to sure up their position with loyalty and reward schemes, there is clearly still a major opportunity for disruption: either with aggressive pricing models like Temu and Shein, or with markedly different propositions like Vinted. 
Despite stark differences in their propositions – Shein is economy fashion, while Vinted is about recycling and reselling clothes – both attract a heavily female and significantly younger audience compared to the total internet population.  
However, Vinted attracts an audience that is more likely to be ABC1 and more likely to identify as lesbian, gay, bisexual or another sexual orientation. 
Temu is quite different: it also skews female, but less heavily so, and attracts an audience that's older than Vinted and Shein, as well as compared to the total internet population 
Attitudinally, Vinted users also stand out. They are more likely to agree they find it difficult to balance work, children and their social life and that they like to go to trendy places to eat and drink. They are also the most likely to say they are prepared to make lifestyle compromises to benefit the environment, which is very much in keeping with Vinted's proposition. 
 Temu visitors under-index on a lot of measures but are more likely to agree that they keep up with developments in technology – at least compared to Shein and Vinted users.  
Threats and competition 
But who are these disruptors disrupting? 
When we look across the top 50 retailers, we can see which brands have the highest proportion of visitors that are also going to these disruptors – so are at the highest risk of losing market share to them.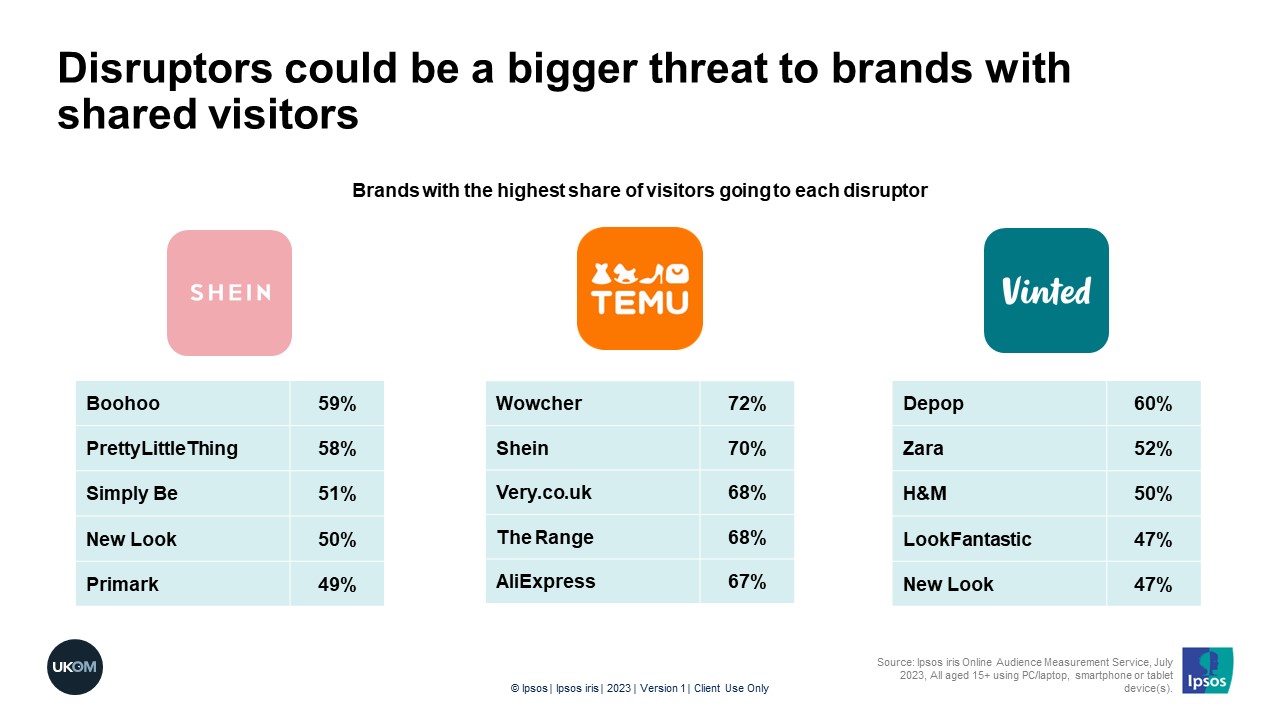 Shein has the highest audience coming from fellow low-priced, economy retailers like Boohoo and PrettyLittleThing as well as SimplyBe, NewLook and Primark – all competitively priced retailers.  
The same is true for Temu visitors, with Wowcher having the biggest share of its audience visiting Temu, with The Range and AliExpress also appearing in the top five. 
Despite having a similarly young, female audience, Vinted's shared audience is almost entirely distinct from Shein's. Vinted shares a large audience with Depop, which has a very similar business model, as well as Zara and H&M: high street retailers that are less price-led than those that Shein attracts. 
We can also see which of our 'established players' Temu may be best positioned to disrupt: 59% of visitors to Asda in July also visited Temu, compared to 53% for Sainsburys and Tesco, and just 47% for Amazon. This suggests Asda could be at the greatest risk of losing sales to Temu, particularly on non-grocery items like homeware and electronics. 
Finally, a question that we've been asked a few times now, is whether Temu is a flash in the pan. Are people just visiting to see what the fuss is about and then leaving? 
It is a little early to say, but certainly the average time spent per person on Temu's site or app in July would suggest not: on average people were spent almost an hour browsing Temu in July. While this is some way off Amazon, whose visitors spent over three hours a month across its retail site and app, Temu is ahead of the three major supermarket brands. In fact, of the top 20 retailers, Temu saw the fourth longest time spent on its site per person, behind Amazon, Vinted, Ebay and Shein. Meaning all three disruptors we've mentioned are in the top five for time spent per person. 
It will be interesting to see which approach resonates most with consumers, aggressive pricing or loyalty schemes. 
Summary 
So finally, what have we learnt? Despite the crowded and competitive market mentioned earlier, there is still the possibility for major disruption in the UK. 
Temu and Shein in particular have grown audiences based on competitive pricing and are well-placed to take share from other economy brands.  
How can you differentiate yourself through your proposition and your service, not just price? Is loyalty the answer? 
Recommendations 
Some final takeaways looking across the retail category: 
Maximise engagement and data capture with apps 
We've talked separately about appification and about loyalty but there are definite synergies between the two: both are about putting your brand front of mind for shoppers and creating customer stickiness.  
Being the first retailer they visit because they are a member or because they have your app front and centre on their home screen; it's all about encouraging customers to come direct to you.  
And both should yield rich data on your customers – whether they're browsing your app or scanning it in store. 
Move up the funnel in retail media 
One of the big attractions of retail media is how easy it is to measure effectiveness and attribution: you can see how many customers were served an advert or saw a promoted product, how many clicked and then how many converted. 
However, it's important to also consider further up the funnel – to pick the right brands to work with to maximise your reach among your key target markets – especially as more and more brands open up their networks and the landscape becomes more crowded, complex, and cluttered. Picking the right network or networks will only become more complicated.  
 Price vs loyalty 
We've talked a lot today about loyalty amongst our established players and price among our disruptors, so it does feel like the bigger brands are trying to consolidate their position in market, while the challenger brands are trying to tempt customers away.  
It will be interesting to see how the battle between price and loyalty plays out over the next twelve months.  
Of course, these aren't the only options available to retailers, and they're certainly not mutually exclusive. But even if neither is the focus of your brand, they will still be part of the context in which your shoppers will be making purchase decisions. If you cannot compete on price, and you don't have members or a rewards programme, how will you position yourself in this landscape and still deliver value for customers?